On 1 February 1978 – 33 years ago this week – seven people left Denmark in a 1955 Bedford bus headed to Nepal. I was one of those people. We drove through
Germany
Austria
Yugoslavia (that was its name back then)
Bulgaria
Turkey
Iran
Afghanistan
Pakistan
India
Nepal
and then turned around and drove back to Denmark, arriving home four months and eight days later.
Sometimes, I feel like I took that journey at the last minute. The first little revolution in Afghanistan took place in April 1978 while we were in India. A year later, the Shah was deposed in Iran. Massive changes have taken place in some of the countries I visited. We met only kindness and hospitality from total strangers in these countries; they invited us into their homes and offered us food and drink. I wonder what has happened to them in the past 33 years.
The experience was a major turning point in my life. We kept a common diary that was typed up on a little manual travel typewriter. At some point during the journey, someone sat on the typewriter. After that, the diary was written by hand and updates were less frequent! We took black-and-white photos, which we sent home to families as our postcards. We had all the chemicals and equipment on hand for film development. Remember, this was pre-Internet, pre-Flickr, pre lots of technology!
This adventure came up in conversation at a coffee shop today. My friend asked whether I had considered writing up the tales. I have, but it's just another item on my that-would-be-fun-to-do list. Most photographs from that trip are on slides. One of the women, Mette, took several thousand photos – she went on to become a professional photographer. I had no camera, so I took copies of our black-and-white photos, and one summer, I copied 400 of Mette's slides for myself. I never see them because I don't have a slide projector, and these days, I'd prefer to have digital copies. Another to-do item…
I dug out a few photos this evening that I'd like to share. You can click on the photos to view a larger version. They are rather faded, but I think that is due to the poor developing conditions. Welcome to one tiny corner of my memory.
Tales From Six Photos
As we drove between Herat and Khandahar in Afghanistan, we passed nomads walking by the side of the road, transporting goods on their camels. Nomads is the term I used in the note on the back of this photo. Things look pretty barren, but it was winter, as well as being a desert-like area.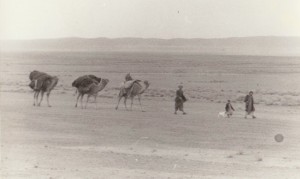 The bus was our home on the road. According to my notes, we are somewhere on the road in Afghanistan. We had a bunk bed, an eating area, a wash basin (used only when we were stopped), and a gas cooker that used portable gas bottles. We had shelves in place of the bus' original baggage shelf. Each person had a tiny area for all their personal belongings. I mean tiny! I sport a classic giant-glasses-70s-look in this photo. Niels is behind me and Leslie, the third woman, is behind him. By the way, I am 19-years-old in this photo; I turned 20 the day we entered Nepal. Because of this adventure, I could never say "no, it's too dangerous" to my kids when they wanted to go off on an adventure at that age!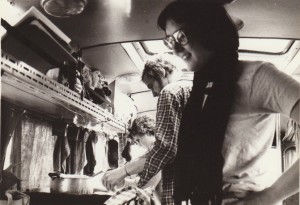 We christened our bus Johanne, named in honor of the man, Johannes, who sold us the bus. Here, Johanne is parked in Pokhara, Nepal. The view of the Himalayas was breathtaking. In this photo, we have Annapurna IV on the left and Annapurna II on the right. Later, four of us would take a 9-day trekking trip up toward Annapurna and the beautiful Machhapuchhre ("Fishtail") mountain.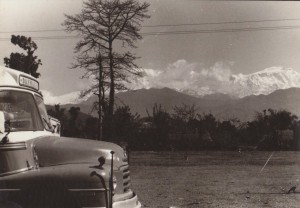 For four days, we parked by the road about 50 km outside Katmandu. I have several interesting stories about our meeting with the local villagers there. We were all attracted to this one woman. With a lot of waving hands and fingers, we figured out she was the same age as the women on the bus: 20 or 21. She had 3 children, and the basket on her head was for collecting grass for her cow back home. (The hillsides were too steep for the animals, so the women harvested the grasses needed for feed.) When she discovered we were the same age and that none of us had children, she was laughing and laughing. We were obviously going to be old maids, and pretty useless ones at that, if we had had no children by now. I wish we could have communicated with her in a common language. Her laughter was beautiful. She seemed like she would always be the life of the party. She stood proudly in front of us in her bare feet, head bent slightly to hold the forehead strap that carried the basket on her back. One of her daughters stands close to her, shy and curious.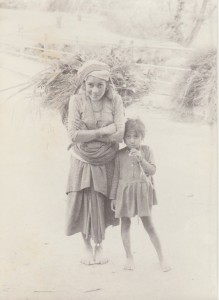 One of the highlights of the trip was meeting Naru, the boy reading in this picture.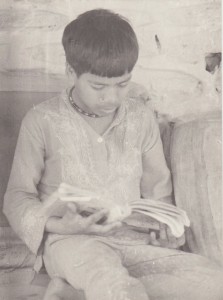 Naru worked at the New Green Lake Hotel in Pokhara. The hotel was run by an Australian, who hired Naru to be the waiter and cleaning staff. In exchange, Naru received some token salary and schooling. Three of us went to Naru's school one day. We were a huge attraction. Children crowded around us to look at our cameras. They were the non-digital kind, so no quick view on the back of the camera. We were a hit anyway. This photo shows the interior of the teachers' room. I am partially hidden behind the globe, where I am obviously trying to look at everything on the walls. Note the portraits of the king and queen in the center of the photo hanging just below the ceiling.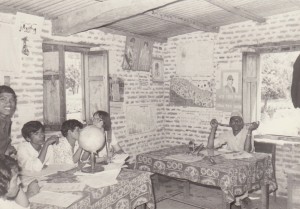 We decorated the outside of our bus. Yes, I guess we were hippies. 🙂 One of our favorite scribbles on the bus was from an unkown source.
Though we travel the world over to find the beautiful, we must carry it with us or we will find it not.
In 1978, I never dreamed I'd one day have a computer and repeat those words on something called a blog.